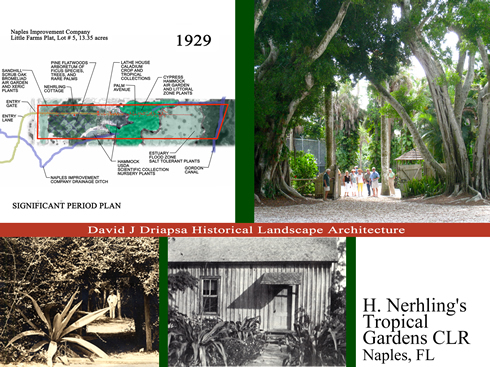 H. Nehrling Tropical Gardens and Arboretum
Naples, Florida
Collier County Historical Preservation Board
Throughout his life Dr. Henry Nehrling was drawn to the wild places of America. During the last quarter of the 19th century, his writings on nature reached international fame.
Nehrling developed Palm Cottage Garden at Gotha, near Orlando. Thousands of visitors came to see his caladiums growing in extensive rows within the slat houses. He supplied his caladiums in bulk to commercial establishments. In addition to this commercial crop, Nehrling filled his garden with exotic plants from around the world.
In 1917, a severe freeze caused the loss of Nehrling's entire commercial crop of caladiums, as well as many of his rare plant specimens. After the setback, he began to focus on finding a more southerly place to establish a second garden for strictly tropical plants. Nehrling was invited to Naples by the developers of the resort town to establish his tropical plant nursery as an area attraction. By 1925, more than three-thousand species of ornamental plants were growing in his 'Garden of Solitude.' It was the largest collection of tropical ornamentals within Florida; plants growing in the earth outdoors exceeded the most extensive indoor collections in northern conservatories.
Following Nehrling's death in 1929 the garden lay fallow for decades. In 1951, Julius Fleischmann bought the land and rejuvenated the garden. He subsequently bought adjacent properties and merged the land with Nehrling's garden, opening the site to the public as Caribbean Gardens. After Fleischmann's death in 1967, a small zoo was established at Caribbean Gardens. Today the land is owned by Collier County government in the green heart of the Naples Zoo.
Working with Collier County preservation board, David Driapsa conducted a cultural landscape report to guide the recognition and preservation actions for preserving the historic garden.