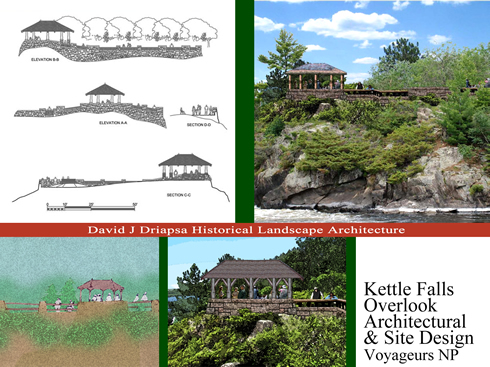 Kettle Falls Overlook
Voyageurs National Park, Minnesota
U.S. National Park Service
There has been a portage around Kettle Falls as long as people have used the boundary lakes for travel. Mechanized portage is still available. The falls were known to the ancient American Indians, early French fur traders, English explorers, and American gold miners, commercial fishermen, and loggers who portaged around the transportation barrier of Kettle Falls when traveling between Namakan and Rainy lakes.
There have been overnight accommodations at Kettle Falls since the late 1890s. A dam tender's cabin was built in 1910 and the Kettle Falls Hotel, now on the National Register of Historic Places, was constructed at about the same time. In 1914, the Minnesota and Ontario Power Company completed construction of two dams at Kettle Falls and at Squirrel Falls in Canada.
Since 1975 this historic cultural landscape has been included in Voyageurs National Park. Visitors continue to dine and stay overnight at the historic hotel, view the Kettle Falls Dam from the overlook, and portage between Namakan and Rainy Lakes.
The General Management Plan for Voyageurs National Park written in 2002 included the development of 15-20 visitor destinations. These destinations can be reached only by boat and provide visitors with an opportunity to learn about this national park and its significance.
David Driapsa master planned boat docks, accessible trails, picnic facilities and interpretive wayfinding exhibits for these destinations that include historic structures and cultural landscapes being preserved by the National Park Service.
Working with the Resources Management Division of Voyageurs National Park, David Driapsa conducted extensive archival and site reconnaisance. He designed the Kettle Falls Overlook in the National Park Service Rustic Architectural Style to blend into and grow from the natural rock ourcrop.