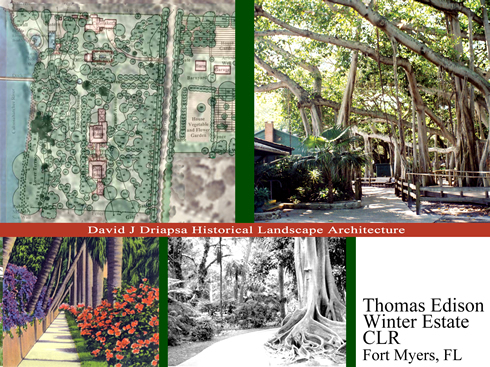 Thomas and Mina Edison winter estate
Fort Myers, Florida
Edison-Ford Winter Estates Foundation, Inc.
Martin Jay Rosembum Associates Architects
Working as the local consultant, David Driapsa conducted extensive archival research and site reconaissance. He created the existing conditions report and site plan, significant periods plans and treatment recommendations that provides the foundation for preservation and rehabilitation actions for the historic estate as a public museum.
Grassed avenues form a grid of nine long rectangles over the estate. The Edison home, guest house and laboratory and caretaker cottage are located within the center rectangles. The remaining grids are subtropical botanical gardens. The grassed avenues form a geometrical grid of pleasant walkways between the panels of tropical gardens, opening long vistas and water views onto the river.