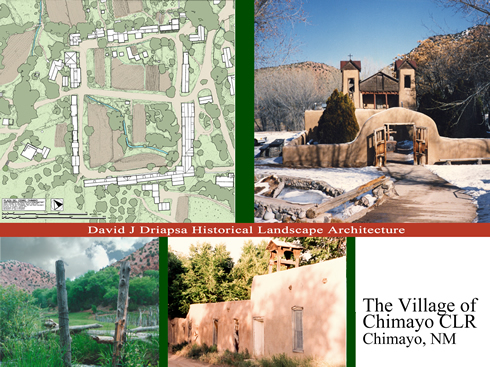 The Spanish-colonial village of Chimayo, New Mexico
Cultural Landscape Report
Working with Ervin Zube at the University of Arizona, Landscape Architect David Driapsa conducted extensive archival research and site reconnaisance to document the cultural landscape of the Spanish colonial village of Chimayó, New Mexico. David prepared a Cultural Landscape Report and treatment recommendations for preserving the historic character of the traditional village, its gravity-fed water irrigation systems, its flowing river and luxurious bosque, its fields and meadows, its traditional open spaces and landmarks. The plan guides community growth within the centuries-old established pattern and is sensitive to historical assets and compatible with the traditional cultural values.
Chimayó has a historic fabric of old plazas with family lineages that go back centuries. Over time, the plazas grew into neighborhoods. Some have disappeared, others survive as centers of vibrant neighborhoods of adobe buildings and dirt roads.
Thirty miles north of Santa Fe in the foothills of the Sangre de Cristo Mountains, the historic village was founded late in the 17th century as an isolated outpost of European cuture on the northern edge of Spanish America. Plaza of San Buenaventura (now the Plaza del Cerro) was constructed for protection from the threats inherent in a frontier life and survives as the best example of a Spanish colonial plaza in the United States.
The settlers became experts in farming, stock raising and wool weaving. People still farm and are very active in maintaining water rights. They are adamant about preserving water supplies and open land, together with age old cultural practices of working the land, having subsistence from the earth, and living in tune with the cycles of nature.
Tens of thousands of pilgrims make their way each year to el Santuario de Chimayó, a National Historic Landmark known as the Lourdes of America. The shrine has been a place of worship since before construction of the church in 1813. Many thousands make the trek during Holy Week, carrying wooden crosses and seeking miracles of healing. Following a long tradition of miraculous shrines, el Santuario is an important Catholic pilgrimage center and the most beautiful example of Spanish Colonial architecture in New Mexico.