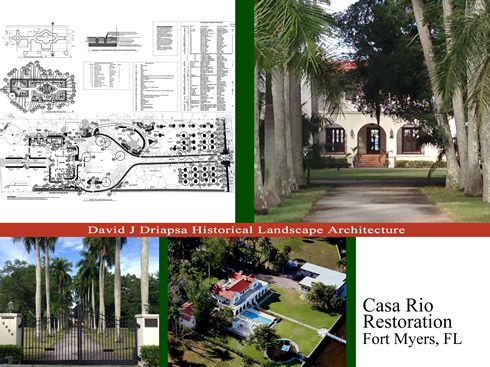 Casa Rio
Fort Myers, Florida
Ferrell/Sanford Architects
Casa Rio is a historic riverfront estate located along the Caloosahatchee River adjacent to the historic Henry Ford estate of the Edison-Ford Winter Estates Museum. Designed by architects Henry Van Ryn and Gerrit de Gelleke in the Mission/Spanish Revival style, the house was built in 1926 by inventor C.W. Stribley on a four acre waterfront parcel.
A long paved driveway lined with colonnades of majestic royal palms leads to the home and circles in front of the centered entry. Large Ficus trees and many fruit-bearing trees, including grapefruit, lime and mango are planted in orchards at the streetfront of the property. The landscape is irrigated from a 674- foot deep flowing artesian well.
The riverfront of the house overlooks the Caloosahatchee River and is sited approximately 180 feet from an original 265-foot concrete seawall along the river bank. The seawall near its northern terminus opens into a circular mooring basin for boats.
Much attention was paid to restoring the historic landscape. David Driapsa was consultant to the architect to rehabilitate the historic landscape in the $2 million project. This effort involved reconnaisance and documentation of the existing landscape and analysis of the historic integrity of the site and its features, contributing to the strong protective stance of the owner and architect for preserving the historic landscape.
An outdoor cabana with a kitchen and bathroom, a salt water swimming pool, a landscape irrigation system that mixed fresh water to dilute the saline water of the flowing well, a boat dock and commercial lift station, and buried outdoor utilities was added.