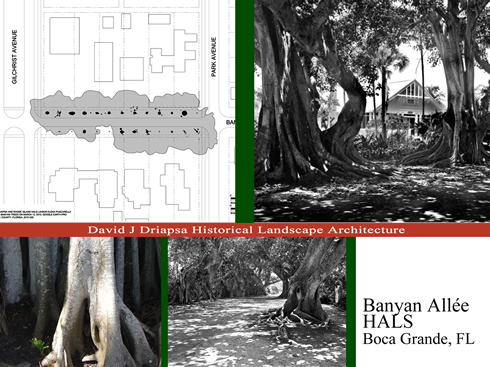 Banyan Allée
Town of Boca Grande, Florida
U.S. National Park Service
The Banyan Allée survives along with historic architecture of Boca Grande as a reminder of the town development during the late pioneer era of SW Florida.
David Driapsa documented these century-old Banyan trees (Ficus benghalensis). This tree allée is one city block long. It originally consisted of 26 trees, with 13 planted 25 feet on center on each side of the street and 38 feet apart across the street. Twenty-one trees remain. Two were replanted following damage to the allée caused by a hurricane.
Banyan trees grow a massive canopy of foliage, for example, the Banyan tree in Fort Myers at the Thomas Edison Winter Estate. Planted in 1925, that tree canopy spreads 300 feet in diameter. Banyan trees produce aerial roots that reach the ground and form new trunks to support the ever increasing weight of the spreading canopy.
The Boca Grande Banyan allée is a historic landscape feature remaining from the early period of the town development. Research has not revealed exactly who planted these trees or when. Landscape architect Carl Rust Parker produced a master plan for Boca Grande in 1914 proposing the planting of street tees to help transition the gritty railroad town to an island resort for the wealthy. At that time, employees of Boca Grande Land Company planted palms and similar tree allées of differing species along the streets of Boca Grande. It is likely that this Banyan Allée was planted as part of that project. Photographs made in 1925 for the Olmsted Brothers Landscape Architects show another Boca Grande street lined with these so-called rubber trees. Those trees have not survived.
Hurricanes, tropical storms, and street flooding have impaired this tree allée. Heavy trimming to repair damage caused by hurricanes resulted in internal rotting of the trunks beginning at the pruning cuts. Annual structural pruning and removal of aerial roots has left the weight of large limbs unsupported.

This tree allée survives mostly intact as a reminder of town development during the late pioneer era of SW Florida. Will the trees survive as an allée for another century? HALS documentation preserves the record in the Library of Congress and raises an awareness of this significant historic feature of the Boca Grande cultural landscape.