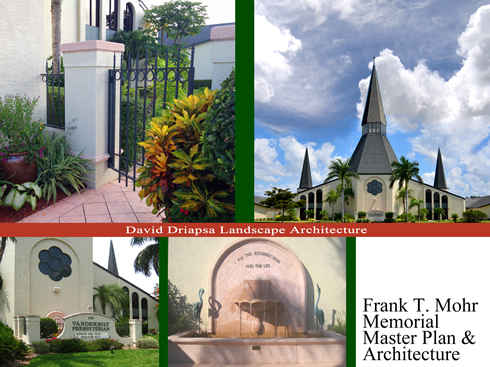 Frank T. Mohr, Jr. Memorial Garden
Vanderbilt Presbyterian Church, Naples, Florida
David Driapsa works with landscape committees, designing gardens built to exacting specifications, with outstanding aesthetic qualitiy and functional features.
This very special garden is a quiet haven that sometimes goes hours or even days without being used.
It sits nestled in front of Vanderbilt Presbyterian Church under a a stained glass rose window and behind protecting walls, offering those in need a place to meditate, and contemplate.
The Frank T. Mohr Jr. Memorial Garden is so special is that it won the Florida Federation of Garden Clubs Best in the State Landscape Design Award.
It doesn't matter that it measures a mere 25-by-25-feet; its beauty goes well beyond its confines. Catherine Cummings, head curator of this little hideaway garden, explains this as she squeaks open the wrought iron gate to share her pride and joy.
"We thought about other places," she says, quietly, to protect the serenity. Here at the front of the church where David recommended seems appropriate, as a way to welcome everyone into their home.
The garden was started by church member Elizabeth Chubbs, but after her death Cummings took over, finding a landscape architect to help her and her group of gardeners.
"If you believe in acts of God, this was one," she says, singing praises of David Driapsa, who helped her committee make their dream garden a reality.
In this tiny oasis the cacophony of cars and trucks trundling along Immokalee Road are drowned out by the tinkling of water in a symbolic fountain.
"I am the Resurrection and the Life," reads the inscription on the fountain, as a slate of water is delivered through a scupper. Two bronze birds stand knee deep in the water — one with its head bowed in prayer and the other looking skyward toward heaven.
There's a bench, where one can sit and gaze at the fountain and contemplate its eloquent words.
The garden symbolizes: faith, baptism and resurrection.
As for faith, the pavers stretch out in a symbolic form of the cross. The pattern is completed by the form of the fountain's pool and represents baptism. The resurrection is suggested by the cross high on the steeple above the church, soaring toward heaven.
Why would such a tiny garden win a state award? "We wanted to put this on the map," says Lois Allen, the chairwoman of Landscape Design Consultants for the Florida Federation of Garden Clubs.
"It's a very special place," and one she wanted to share.
"This is so unique and such a comfortable place to be," Allen notes. It's also the resting place for souls who've passed on. Under the pavers of the memorial garden are enough spots for the cremated remains of 400 people.
"This is really a perfect spot," Allen says. And both she and Cummings smile at a job well-done.
"Gardens are therapeutic," Allen adds. "This one is a spiritual experience."