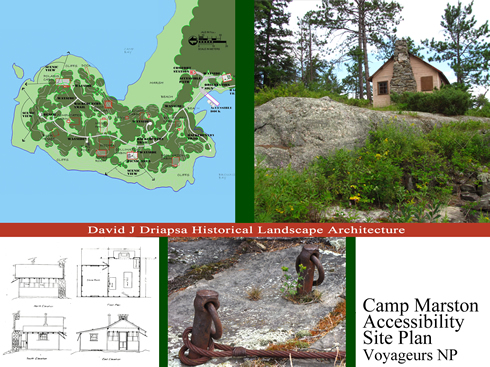 Camp Marston
Voyageurs National Park, Minnesota
U.S. National Park Service
https://www.youtube.com/watch?v=gn4_4SgBpQI
In Brown's Bay, about 20 miles east of the Voyageur's National Park Visitor's Center, one can find the remains of Camp Marston. In the 1920s and 1930s, civil engineering students from Iowa State University came to this remote spot to learn the skills of frontier surveyors.
Camp Marston is eligible under Criteria A for its association with an early educational camp and Criteria C for design and construction.

From 1922-1940, Iowa State University operated a summer camp for civil engineering students at Camp Marston in Browns Bay on Rainy Lake. Camp Marston represents another aspect of recreation. Group camps were designed to provide experiences for a number of people. The topography of Rainy Lake offered the technical challenges desired by the university to train students. The remoteness of the area offered few distractions. Students not only received an intense educational experience, but also made important contributions to the surveying and mapping of Rainy Lake. In 1937, a conference of surveying instructors held at the camp led to the formation of national standards for land survey practices and the establishment of the American Congress on Surveying and Mapping in 1941. When the camp closed in 1940, the state divided the property into state lease lots. Today the property consists of the cabin known as "Polaris", where the camp professors stayed, and the foundation/chimneys from other former camp structures.
The General Management Plan for Voyageurs National Park written in 2002 included the development of 15-20 visitor destinations. These destinations can be reached only by boat and provide visitors with an opportunity to learn about this national park and its significance.
David Driapsa master planned boat docks, accessible trails, picnic facilities and interpretive wayfinding exhibits for these destinations that include historic structures and cultural landscapes being preserved by the National Park Service.
This project meets the provisions of Sections 106 and 110b of the National Historic Preservation Act, requiring federal agencies to produce Documentation to HALS standards on sites that are listed in the National Register of Historic Places to mitigate the adverse effects of federal actions such as demolition or substantial alteration.
The work was conducted by David serving as project director for Voyageurs National Park Division of Resources Management. He prepared master plans for numerous historic sites in the park, including Camp Marston. Facilities include ADA accessible boat docks, paths, comfort station, picnic tables and interpretative signage. He compiled archival information and extensive site reconnaissance documenting the existing historic landscape, architectural and archeological resources and developed the master plan document. The site is accessible by water.
The master plan assesses existing natural and cultural resources and recommends site organization to enhance visitor experience, interpretation, and programming. Management of resources and ADA accessibility are critical issues that are addressed, presenting present short- and long-term goals by which the Park Service can meet both goals of accessibility and preservation.